by Federal Defense Industries
Johan Djupstrom has been named Positive Spirit MVP for the month of April. In selecting Johan for this recognition, Philip Ochoa, FDI's President and CEO recognized Johan for "creating measuring tools for the company that puts FDI in the forefront of logistics management."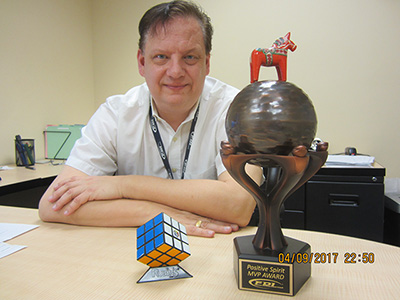 Johan has been with FDI for two years and is the Systems and Programming Analyst. In this role, he is responsible for building and developing applications and databases for FDI's FEDBase® , used by every member of the FDI team throughout their workday.
A programmer for 20 years, Johan says his programmer's brain never turns off; he is constantly thinking of how to make things easier for each FDI Team Member. He moved to Southern California from Sweden 20 years ago for two reasons — to enjoy the warm weather and to attend Santa Barbara City College. Johan is a self-taught programmer and is naturally wired for figuring things out.
For fun Johan enjoys playing bridge, complex video games, swimming, and watching movies. His interest in bridge led him to develop four Contract Bridge Apps. What does he miss about Sweden? Certain foods, and quiet lake fishing, but not the snow.
Johan is very happy about receiving the Positive Spirit MVP Award. He says he enjoys working for FDI; the IT department is very talented, each member has a unique set of skills that blend together. When asked what it's like to be a programmer, Johan responded, "you live in your own world and it requires extensive attention to detail." Success for Johan is when he can make things easier for others, which makes him very happy.